A New Zealand court has ruled that internet entrepreneur Kim Dotcom is eligible to be extradited to the United States to face multiple charges.
Dotcom, accused of copyright infringement, racketeering and money laundering, said he will appeal.
He founded the now-defunct file-sharing site Megaupload where millions of people downloaded movies and songs.
US authorities say Dotcom and others cost film studios and record companies more than $500m (£322m).
But Dotcom, a German national who has been living in Auckland and describes himself as an "internet freedom fighter" on his Twitter page, has fought the case arguing that he was not responsible for the copyright infringement.
The 39-year-old, born Kim Schmitz, told reporters outside the courtroom he would fight the ruling, adding: "I'm disappointed."
Three other men, who co-founded the site with Dotcom and face similar charges, have also been ruled as eligible for extradition.
---
Timeline of Kim Dotcom's case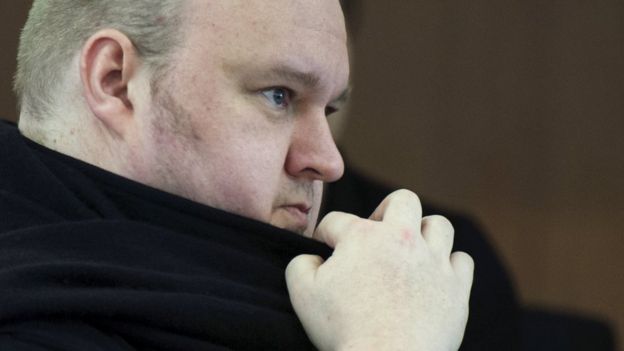 In 2005, Dotcom founded file-sharing website Megaupload.com in Hong Kong, used by millions to share movies, TV shows, pictures and songs.
Dotcom was granted residency in New Zealand in 2010. He has been living in Auckland since then.
In January 2012, US authorities shut down Megaupload.com and charged Dotcom with copyright infringement, racketeering and money laundering.
New Zealand police raided his house at the request of the FBI. The US government began extradition proceedings that same year.
The extradition hearing started in September 2015 in Auckland. On 23 December, an Auckland judge ruled he could be sent to the US to face charges.