The lengthy face-off followed with the Londoners engrossed in conversation, and Whyte told Sky Sports of that conversation afterwards: "He was telling me to be calm but I was telling him that he knows me and he knows what I'm about. Don't talk in front of the cameras.
"He said that he didn't like to talk in that environment but if I wanted to meet, let's meet. So I said that's fine, that I'd get his number and would call him to arrange something afterwards.
"He's not real. His psychiatrist told him he needed to say a bit more and show confidence. The guy is like a wind-up toy. If you wind him up enough and put him in the line, he just goes. That's all he does.
"He finally opened his mouth and said something! Normally he sits there like a statue and says 'Stay hungry and stay humble.' You can't really make an exciting press conference out of that, can you?
"It's as simple as this. He talks a lot of cr*p and gives it the big one, saying he's some hard man. I'm just telling him that it is what it is."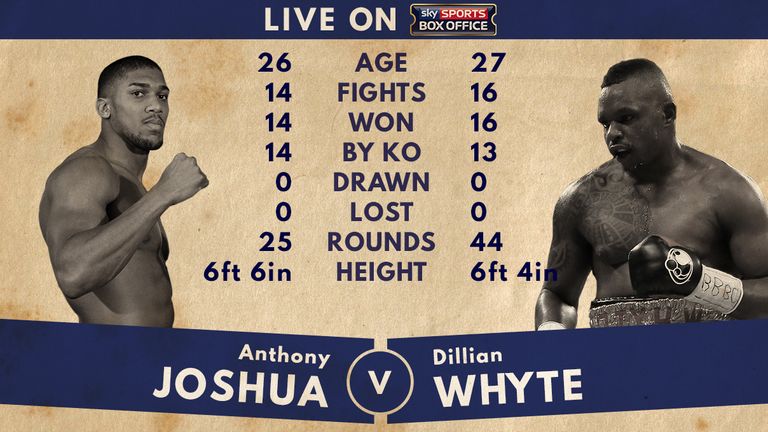 Joshua will hear the opening bell as the clear favourite but Whyte, who beat Joshua in 2009 in the amateur ranks, is unfazed by widespread opinion being stacked against him.
The 27-year-old added: "There's always going to be a favourite and an underdog. It's not unfortunate to be the underdog. I'm used to this. I'm used to being the guy who shouldn't do things. It's just fuel for me. When times get hard, that'll be the extra fuel I need.
"I want to say thanks to everyone who has supported and also thanks to the haters. I'm making history for my family and myself, so I'm happy."
Joshua vs Whyte is exclusively live on Sky Sports Box Office, December 12, and is now available to order via your Sky remote or online.